---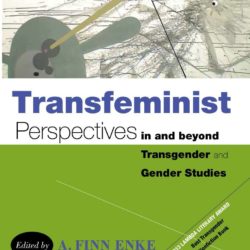 Transfeminist Perspectives: in and beyond Transgender and Gender Studies. (Edited collection) Temple University Press, May 2012.
Winner, 25th Annual Lambda Literary Award, Best Book in Transgender Nonfiction, 2013.
---
Finding the Movement: Sexuality, Contested Space, and Feminist Activism
Duke University Press, 2007.
---
Articles
"Collective Memory and the Transfeminist 1970s: Toward a Less Plausible History" Transgender Studies Quarterly, 2018 5(1)
"Stuck in the Paradigm with You: Transfeminist Reflections on History and the Spaces of Contradiction."
Abigail Stewart and Sarah Fenstermaker, Gender, Considered: Feminist Reflections Across the U.S. Social Sciences. (Palgrave MacMillan, 2020)
"Introduction: Transfeminist Perspectives"
Transfeminist Perspectives In and Beyond Transgender and Gender Studies. Temple U. Press, 2012, p. 1-20 
"The Education of Little Cis: Cisgender and the Discipline of Opposing Bodies" Transfeminist Perspectives: In and Beyond Transgender and Gender Studies. Temple University Press, 2012, p. 60-77.
"What Is a Body, Anyway? Form, Deep Listening, and Compassion on a Trans Buddhist Path"
Kevin Manders and Elizabeth Marston, eds. Transcending: Trans Buddhist Voices (North Atlantic Books, 2019) 
"What Is a Body, Anyway?" can also be accessed online via Utne Reader

"You'd Be Home: Meditations on Trans Ecologies"
Afterward to Douglas Vakoch, ed., Trans Ecologies: A Reader (Routledge, 2019)
"Transgender History and Otherwise Approaches to Queer Embodiment"
Don Romesburg, ed, History of Queer America. (Routledge, 2018)
"Where I Make Sense"
Lion's Roar, December, 2017.
"Stick Figures and Little Bits: Toward a Non-binary Pedagogy"
Yolanda Martinez-San Miguel and Sarah Tobias, eds., Trans* Studies: Beyond Hetero/Homo Normativities. (Rutgers University Press, 2016)
"Translation"
Transgender Studies Quarterly 1:1/2 (Winter, 2014)
" 'Unlikely Sex Change Capitals of the World:' Trinidad, USA and Tehran, Iran as Twin Yardsticks of Homonormative Liberalism"
co-authored with Elizabeth Bucar,  Feminist Studies, Summer 2011.
---
Blogs